Source Slotted Square Washers
Ready to source slotted square washers? Our catalog is exactly the place to start. We carry all types of slotted square washers in many sizes, thicknesses, and materials. These washers can be used for a range of different spacing applications. You can easily source and specify them here on our website, and we'll respond with a quote and answers to all of your questions. If you don't see slotted square washers that suit your specs, contact us directly and give us details on what you're looking for. We can create custom slotted square flat washers to suit your specifications. A knowledgeable member of our customer service team will guide you through the process and answer all of your questions.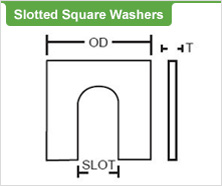 Slotted Square and Square Hole Washers For All Industrial Needs
If you're searching for your best option among square washer suppliers, then you've found it with us at Superior Washer & Gasket Corp. We manufacture slotted square flat washers and square hole washers that will distribute load, allow for easier maintenance, and protect material surfaces, while fitting securely with square necked fasteners. We can stamp square hole and slotted square flat washers from virtually any raw material that we have in stock, so just let us know what you need in your RFQ. We're pleased to provide these and other high quality washers, including 17/4 stainless steel washers, to our customers who require them for all manner of applications—from common to highly specialized.
Why Choose Superior Washer & Gasket Corp.?
Our customers have been with us for decades, and there are many reasons why they continue to choose us. Our inventory can accommodate just about any washer and shim need, specialty or standard, in large quantities or small. We have vast experience fulfilling the needs of OEMs, fastener distributors, and professionals in all types of industries. We know that you need our products to get your job done. That's why we've made it our job to provide you with the highest quality washers and shims, fast, while giving you an unbeatable customer service experience.
Our Capabilities And Services
We maintain many advanced capabilities and services in our two U.S.-based manufacturing facilities. It's these capabilities and services that allow us to maintain a regular inventory of over a billion washers and 370,000 special size parts. This enables us to promptly fulfill your order, even when it's especially large or includes specialty or unusual washers and shims. We manufacture them from more than 40,000 square feet of raw material in virtually every gauge. Our team of expert machinists use over 100 power presses to create standard and custom washers and shims. We're proud to be an ISO-9001 certified company.